Sporting Gijon vs Barcelona: Without Messi, only five goals for Barcelona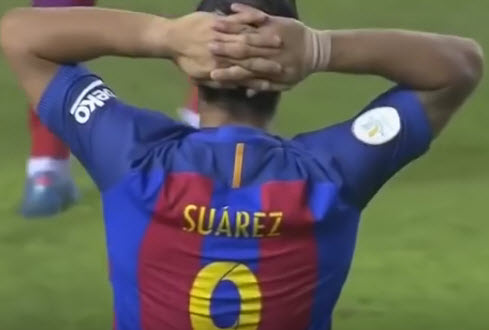 ---
By M. Kolev
24 SEPTEMBER 2016
---
Sporting Gijon vs Barcelona – 0:5
Today at Estadio Municipal El Molinón in front of 26098 fans Sporting Gijon vs Barcelona – 0:5.
Another big win for Barcelona without their biggest Superstar Lionel Messi and this time with only five goals.
As usual, the Catalans were creating chances through individual skills and attacking through the middle and down the wings.
Luis Enrique began the match with a lot of rotations for preserving his team for the next fixture against Borussia Monchengladbach in the Champions League.
Five of his first team players were absent from the starting eleven – Javier Mascherano, Ivan Rakitic, Andres Iniesta and Jordi Alba.
The away team began the first half a bit slower than usual and in the 21 minute Víctor Rodríguez had a shot blocked by Ter Stegen.
In the 29 minute came the first goal for Barca and his author was Luis Suárez who scored from the 18-yard box, low to the centre after the assist of Arda Turan.
Five minutes didn't pass as Barca's second goal entered. This time in the 32 minute Rafinha scored with a header from the 18-yard box, low to the right after the assist of Sergi Roberto.
The second half was easier for the reigning champions after Alberto Lora's sending off in the 74 minute for a second yellow card.
In the 81 minute was Neymar's turn to score. He scored a right footed low to the centre of the net goal from the 6-yard box.
Four minutes later in the 85 minute, Arda Turan scored with a great header low to the left of the net from the 18-yard box after the assist of Sergi Roberto.
Before the end of the second half of the match, Neymar scored and hit the woodwork. His second goal for the match was in the 88 minute low to the right from the 18-yard box after the assist of Denis Suárez.
With this important win, Barcelona is temporary in the first place of the La Liga table before Real's match against Las Palmas.
Comments
comments